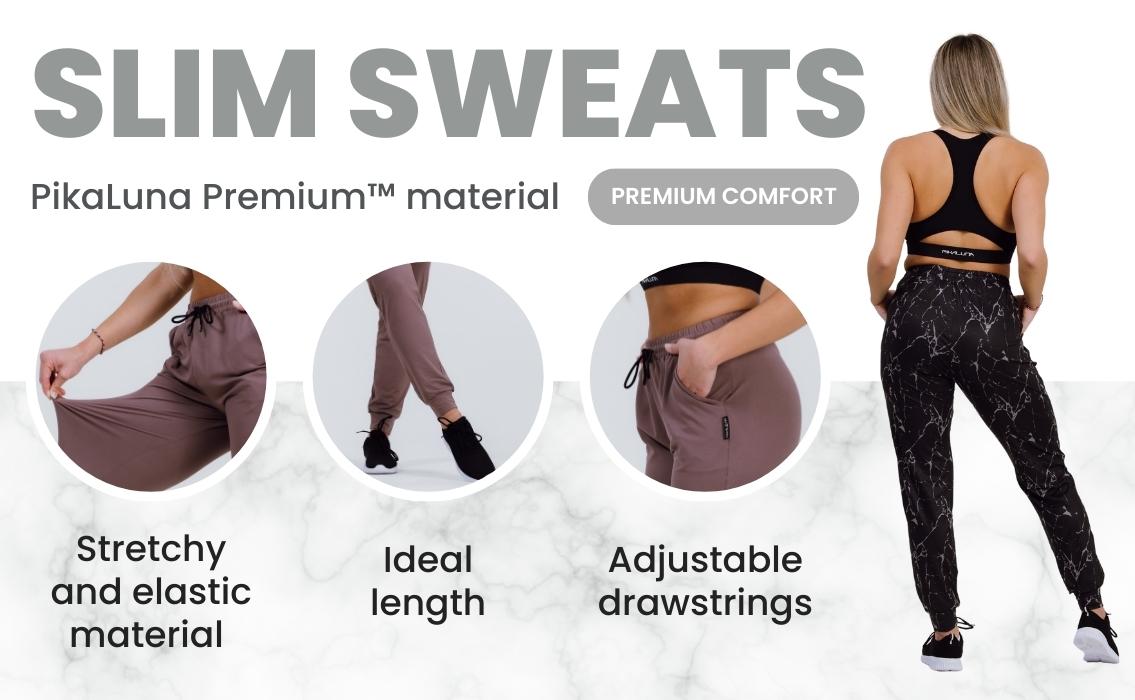 Faq
The patented formula of our fabric provides amazing comfort! We developed the formula ourselves, and we had in mind the softness and comfort that women deserve every day! The market is saturated with women's sweatpants, and ours differ from the others in the comfort they offer. We say it's enough that you have to choose between style and comfort, but what do you say?
PikaLuna women's sweatpants are extremely durable, as our material is one of the most durable ones. No one wants sweatpants tearing at the seams and being see-through, right? PikaLuna women's sweatpants are different! With normal use, sweatpants will not tear or be damaged, and they are also much softer than others. You can also wash them in the washing machine at 30 degrees without any worries, and if you take care of them properly, they will be with you for a very long time! (See below for more maintenance information).
PikaLuna women's sweatpants are available in 3 sizes: Small (XS / S), Basic (M / L) and Plus (XL / XXL). This way you can choose the right size for you without any worries, even if you usually can't decide between two sizes. You can also find a size chart for each model, so if you are not sure - grab the measuring tape to ensure the perfect size of sweatpants for yourself. Because beauty comes in all sizes!
Of course! It's time to replace tight jeans and uncomfortable pants with soft sweatpants, which are suitable not only for sports activities, but also for coffee with friends, shopping… The times when we wore sweatpants only for watching TV and in the gym are long gone! Now is the time for comfort and style – all in one.
Of course! Our planet is flooded with worn-out clothes that harm the environment and fast fashion is certainly not something we want to support at Pikaluna… That is why our material is extremely durable and PikaLuna women's sweatpants will not have to be discarded after one month (or year). But if you happen to get tired of them, give them away - friends or donate them to someone who can't afford them. Charity, like leggings will never go out of fashion!
Women's sweatpants have to fit your body nicely, but that doesn't mean they have to bother you! The goal is for sweatpants to be like your other skin. They should fit nicely – meaning they do not make a portion of your stomach hang out. All of our women's sweatpants are extremely stretchy and therefore provide a perfect fit. Just choose the right size for yourself. See the size chart for each model, which will further help you choose the perfect size for you.
PikaLuna women's sweatpants can be washed in a washing machine at a temperature of up to 30 degrees Celsius, but first - turn them outwards! Sweatpants do not need (and are not recommended) to be ironed. If you follow these simple instructions, your sweatpants will be with you for a long time!
PikaLuna now also allows flexible payment with Klarna - buy now and pay later! We also offer payment by credit card, Paypal and cash on delivery.
Of course! If the sweatpants don't fit, you can return them unwashed and unworn, with all the labels attached and in the original packaging. Simply fill out a refund form on our website and send the sweatpants to our address.
Delivery is fast and reliable. As soon as we receive your order, we hurry to the warehouse and carefully prepare your package. You can expect your order within 3-4 days, it will be delivered by GLS. When your order leaves our warehouse, we will inform you about it, and on the day of delivery you will also receive an SMS reminder with the delivery time.